Shoulder Pain
If you have shoulder pain, it can be difficult to do simple everyday activities: raise your arm, pick up a child, throw a ball, and many others. 
Why Does My Shoulder Hurt?
Your shoulder is a flexible joint. When it is injured, the pain can reduce your shoulder's flexibility and motion significantly. Numerous conditions can cause shoulder problems. Some of these common causes of shoulder pain include tendonitis, bursitis, impingement, osteoarthritis, and cartilage and muscle tears from overuse.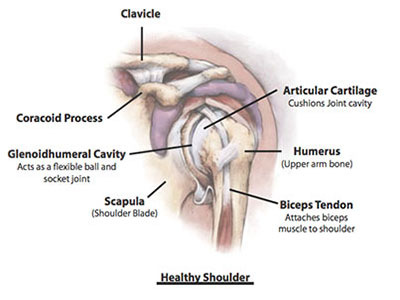 Most shoulder problems fall into four categories:
Shoulder Instability or Dislocation
Shoulder Fracture (broken shoulder bone)
Shoulder Pain Treatment
Orthopaedic Associates of Marlborough offer a full range of treatments for patients of all ages with all types of shoulder pain and shoulder problems. Shoulder pain treatment options are available for patients with even the most complex diagnosis. From minimally invasive arthroscopic techniques, total joint replacement, or complicated fractures, our shoulder surgeons have the specialized training and experience to treat your shoulder pain.
There are many causes of shoulder joint pain. Early Evaluation and treatment can provide pain relief even without surgery.
Acromioclavicular (AC) Joint Dislocation

Clavicle Fracture (Collarbone)

Frozen Shoulder (Adhesive Capsulitis)

Proximal Humerus Fracture (Broken Shoulder)

Scapular Dyskinesis (Scapular Winging)
Anterior Shoulder Dislocation

Shoulder Impingement Syndrome

Sternoclavicular Joint Injury

Subscapularis Tendon Tear

Suprascapular Nerve Entrapment
Orthopedic Shoulder Specialists
Our shoulder specialists are at the forefront of the latest orthopedic techniques and continue to pioneer new and innovative orthopedic procedures. Offering a full range of cutting-edge shoulder treatments,  allows us the most comprehensive approach to shoulder conditions.
Shoulder Procedures
Click topics below to expand for more information.
Orthopedic surgeons can diagnose and treat many different conditions with arthroscopic surgery, while patients can benefit from less tissue damage, shorter recovery times, less scarring and less post-operative pain. This technique also avoids cutting any muscles or tendons to access the affected area.
If non-operative measures fail to provide sufficient relief, total shoulder replacement is an orthopedic procedure with very high patient satisfaction scores. Dr. Marchese has over 14 years experience with Total Shoulder Replacements and carefully assess each patient individually to find the best treatment option.
Platelet Rich Plasma (PRP) is an exciting new technology emerging in orthopedics and sports medicine. Injection of PRP is currently gaining widespread use in the treatment of muscle, ligament, and tendon injuries. There is promising data showing quicker recovery times and stronger healing at the repair site in areas; such as lateral epicondylitis, patellar tendinopathy, ligament tears, and Achilles tendinopathy to name a few. As well, there are encouraging studies and ongoing investigations into using PRP for stronger and quicker healing of the rotator cuff after arthroscopic repair.
Make An Appointment
To schedule an appointment, please call (508) 485-3665 OR Make an Appointment Request online.
We are currently accepting new patients and referrals.