SLAP Lesion Labral Tear Injury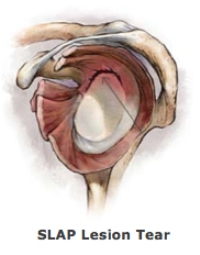 Superior Labrum from Anterior to Posterior (SLAP)
SLAP is short for Superior Labrum from Anterior (front) to Posterior (back). This type of labral tear is usually seen in overhead throwing athletes such as baseball players and tennis players. An injury to this part of the body typically happens due to overuse, trauma, and accidents such as falling onto an outstretched hand.
SLAP Lesion Labral Tear Symptoms
Symptoms of a SLAP Lesion include pain and soreness in the front of the shoulder when bending the elbow or turning the wrist. Some also experience a click or snap with movement of the shoulder and it may feel like the shoulder is being dislocated.
All patient education materials are provided by OrthoPatientEd.com and have been reviewed by our Advisory Board of leading Orthopedic Surgeons to ensure accuracy. All materials are provided for informational purposes only and are not intended to be a substitute for medical advice from your orthopedic surgeon. Any medical decisions should be made after consulting a qualified physician.

This site includes links to other websites. OrthoPatientEd.com takes no responsibility for the content or information contained in the linked sites.
Make An Appointment
To schedule an appointment, please call (508) 485-3665 OR Make an Appointment Request online.
We are currently accepting new patients and referrals.