Joseph Marchese, M.D.
Orthopedic Surgeon: Sports and Shoulder Specialist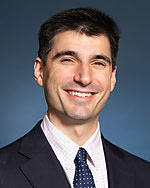 Dr. Joseph Marchese is an Orthopaedic Surgeon who is fellowship trained in arthroscopic surgery and the management of sports-related injuries.  He specializes in complex injuries of the shoulder, elbow, hips, knees, and ankles.  Utilizing the latest techniques, Dr. Marchese focuses on non- operative and minimally invasive treatment of common traumatic and overuse type injuries based on the specific needs of each patient.
Dr. Marchese is a graduate of the University of Utah and received his medical degree from Geisinger Commonwealth School of Medicine.  He completed his orthopaedic residency training at the University of Connecticut Health Center.  He did a one-year sports medicine specialization fellowship at the New England Baptist Hospital in Boston, MA where he was the assistant team physician for Tufts University and the Boston Celtics.
Dr. Marchese specializes in comprehensive non-surgical and surgical treatment of joint disorders, fracture care, overuse injuries, and osteoarthritis. He has advanced training in the latest arthroscopic and minimally invasive techniques of the knee, shoulder, elbow, ankle, and hip. He has a particular focus on arthroscopic hip preservation including labral tears and FAI, adolescent sports injuries, knee preservation (including cartilage transplantation, meniscus injury and ligament reconstruction of the ACL & PCL) and comprehensive shoulder care and reconstruction such as shoulder replacement and rotator cuff repair.
He is a member of the American Academy of Orthopaedic Surgeons, the American Orthopaedic Society of Sports Medicine, and the Arthroscopy Association of North America. He also serves as a manuscript reviewer for the American Journal of Sports Medicine.
In his free time, he enjoys spending time with his family, skiing, playing tennis, and reading. He is fluent in Spanish.
Make An Appointment
To schedule an appointment, please call (508) 485-3665 OR Make an Appointment Request online.
We are currently accepting new patients and referrals.
Dr. Marchese Serves the Marlborough and Clinton Massachusetts Communities
Orthopaedic Associates of Marlborough
Marlborough, Massachusetts
65 Fremont Street
Marlborough, MA 01752

OFFICE PHONE: (508) 485-3665
FAX: (508) 485-0899

Dr. Marchese serves the Marlborough, MA location:
Monday: 1:00 p.m. to 7:00 p.m.
Tuesday: 8:00 a.m. to 11:30 a.m.  and 1:00 p.m to 4:00 p.m.
Thursday: 1:00 p.m. to 4:00 p.m.
Orthopaedic Associates of Marlborough
Clinton, Massachusetts
201 Highland Street
Clinton, MA 01510

OFFICE PHONE: (978) 368-3761
To book an appointment, please call the Clinton office at 978-368-3761

Dr. Marchese serves the Clinton, MA location Thursday's:
Thursday:  8:30 a.m. to 11:00 a.m.