Common Arthritis Conditions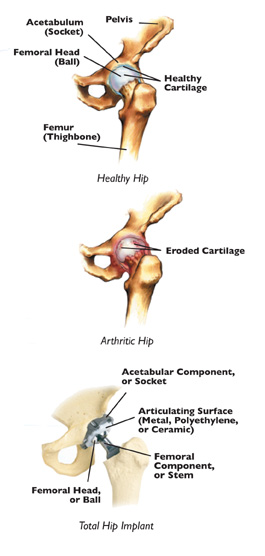 The most common reason joints are replaced is osteoarthritis, which is the diagnosis in 90% of patients receiving a new joint. However, patients may be candidates for joint replacement if they suffer from any of the following conditions:
Osteoarthritis is one of the most common causes of joint pain. Sometimes called degenerative arthritis or degenerative joint disease, it is a condition that involves the breakdown of joint cartilage. Cartilage is a rubbery tissue that covers the ends of moving bones in joints. It acts as both a shock absorber and a lubricant, protecting your bones from damage and providing smooth, pain-free movement.
Rheumatoid Arthritis (RA) This is significantly less common than osteoarthritis, affecting 2.1 million Americans, mostly women. Rheumatoid arthritis is an autoimmune disease, the cause of which is unknown. The body's immunological system attacks healthy tissue, causing inflammation of the joint lining and subsequent joint damage.
Avascular Necrosis (AVN) Also known as osteonecrosis, this is a disorder where the blood supply to the bone is compromised, causing weakness and potential bone collapse. Mostly occurring in people between the ages of 20 and 50, AVN most commonly affects alcoholics, people suffering from rheumatoid arthritis or systemic lupus, and people ingesting high doses of steroids.
Post-Traumatic Arthritis (PTA) Injuries to the joint and cartilage which do not fully heal may lead to an arthritic condition.
Paget's Disease A disorder whereby bone formation accelerates, creating changes in the shape and strength of the bone.
Descriptions provided by The Arthritis Foundation.
All patient education materials are provided by OrthoPatientEd.com and have been reviewed by our Advisory Board of leading Orthopedic Surgeons to ensure accuracy. All materials are provided for informational purposes only and are not intended to be a substitute for medical advice from your orthopedic surgeon. Any medical decisions should be made after consulting a qualified physician.

This site includes links to other websites. OrthoPatientEd.com takes no responsibility for the content or information contained in the linked sites.
Make An Appointment
To schedule an appointment, please call (508) 485-3665 OR Make an Appointment Request online.
We are currently accepting new patients and referrals.